Rediscover the Joys of Fruits and Vegetables!
with The Fruit and Vegetable Cuisine

40 Low-Fat Raw Vegan Recipes by Brian Greco
Now, everyone knows fruits and vegetables are healthy. In fact, throughout all the dietary fads, fruits and vegetables have really remained the only true "health food" across the years.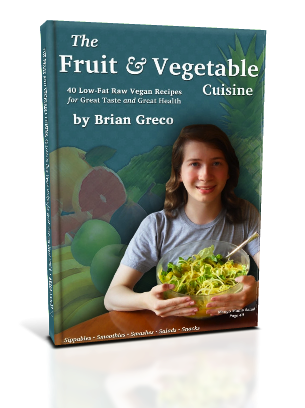 Add to Cart ↓But if you're like many people, you find yourself:
Wanting to eat healthier not knowing where to begin
Tired of complicated recipes that simply taste uninspiring
Struggling to get enough fruits and vegetables in your diet
Looking to lose weight and gain health
Ready for something new :D!
Well, you're in the right place!
Hi! My name is Brian Greco, I'm 15 years old, and I'm here to help you get where you want to be, one delicious bite at a time.
Welcome to The Fruit and Vegetable Cuisine, where whole, fresh, ripe, raw fruits and vegetables is the name of the game.
Look around. In every supermarket, farmer's stand, produce shop, even in convenience stores and restaurants we have fruits and vegetables at our fingertips. And the choices are endless!
Bananas, mangos, dates, oranges, grapes, apples, cucumbers, carrots, lettuces — the list goes on and they only continue to make more available.
At any time of year, at any place, it's quite a luxury that we can now access delicious produce for beautiful dishes that *build*, instead of destroy, your health and happiness.
So what are you waiting for? It's time that fruits and veg got the spotlight as the basis of your cuisine, not just as small side or a condiment (how they most often appear).
As a low-fat raw vegan, my fuel *is* fruits and vegetables. I keep it simple and sweet, and I love it.
But although my diet is simple, it's quite different than the norm, and many people I know and meet are curious about what I eat.
So what better way to share my lifestyle than to introduce some favorite recipes for success? Ask and you shall receive.
I'm here today to share with you my new book, a compilation of my *top 40* fruit-and-vegetable recipes.
I picked out the best of the best: many of which I enjoy on a daily basis.
These recipes are simple, yet gourmet in their own way.
They're fast, ready in no time passed.
And they're fun, for many or for one.
…with scrumptious selections like:
Apple Lemon Alkalizer
Looking for an extra pick-me-up? This quick and refreshing juice is perfect for any time of day.
Pink Piña Love
No more lame smoothies with this FAVORITE recipe of mine that'll definitely hit the spot.
Breakfast Porridge
A creative "fruit stew" that'll satisfy your morning appetite the healthy way.
Simply Perfect
An easy, yet quite surprisingly flavorful fruit combo I'm sure you're going to love.
European Tricolore
A chic mix of lettuce greens for all your salad and entertaining needs.
Taste of Thailand
A lovely salad inspired by the mystical land of Thailand.
*and 35 more!*
In the book, you'll find all different types of recipes for any occasion:
JUICES + SMOOTHIES + FRUIT MEALS + SALADS + SNACKS
And everything is:
Low-fat, no cholesterol
Vegetarian/vegan-friendly
All raw, fresh and simple
Easy to make (beginner-friendly), eat and digest
Made with ingredients found anywhere
What Others are Saying (See More Here)
"I Give The Fruit and Vegetable Cuisine Five Stars!"
I think it makes not only a recipe book but a great menu, because the meals are so easy, and they're virtually ready before even seated.
Excellent organization, reference sections, varieties of taste and color sensations, simplicity and frugality of tools, and nutritional and visual value. Yummy!
— Kathleen Brown
Plus, The Fruit and Vegetable Cuisine includes information on:
How to tell when fruits are ripe
The only kitchen tools you actually need and which are a *waste of money*
Where to go to learn about the raw food diet
How to gain access to The Fruit and Vegetable Cuisine Recipe Club
And many more interesting facts with each recipe!
Get ready to enjoy the great taste and great health that fruits and vegetables have to offer with The Fruit and Vegetable Cuisine. Anyone can share in the delight, you don't have to be vegan or vegetarian to enjoy fruits & veg.
Will you take the step forward for your health?
Give Mama Nature a new try and pick up a copy while they're hot.
The Fruit and Vegetable Cuisine
*40 Low-Fat Raw Vegan Recipes*
For Great Taste and Great Health
by Brian Greco
$19.97
Trade Paperback, 72 pp.
These recipes are super-simple, no-frills and totally delicious. I hope you enjoy them.

Simply tap below to order at my publisher, Createspace.
P.S. — For $19.97, you're getting 40 awesome recipes that you can use forever! That's less than $0.50 a recipe!

P.P.S. — If you have any questions or concern about purchasing, do not hestitate to drop me a message here. I'll be back to you ASAP.
P.P.P.S. — Still not convinced? How about I send you a free $5 off coupon code, right here.
P.P.P.S. — Don't just take my word, check out what others are saying about The Fruit and Vegetable Cuisine.
Click here to order if you missed the link. And have an awesome day. Eat fruit!

Brian Greco is a 15-year-old kid who is passionate about natural health and raw vegan nutrition. He hopes to help inspire others to live healthfully and become educated about the connection between diet and well-being. He runs a blog and videos at www.BrianonHealth.com and can be emailed here.
Even if you're not into recipes, please feel free to like The Fruit and Vegetable Cuisine on Facebook here! (Or below as well.)